Adventure Foundation Pakistan
Here is your chance to find fun, challenge and adventure. Get away from your everyday routine, join Adventure Foundation courses or activities for one in a lifetime adventure and experience that may change your life. With AFP's 20 years of experience in providing outdoor challenges for young people, you are assured a safe time led by skilled and experienced instructors and leaders in the field.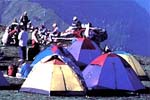 Introduction
The Foundation offers all kinds of people opportunity to step out of their routine life and seek adventure in the natural environment.
Its main objectives are: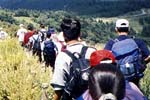 Extending self-awareness through purposeful venture in outdoor situations
Expanding capacity for responding to others by organized group activities.
Enhancing environmental awareness to perceive and identify our natural heritage by conducting outings and courses in the wilderness.
Create an attitude to participate in action-oriented form of learning.
The Purpose
The Foundation provides youth the means to develop their character in close contact with nature, to get to know and love their country and participate in meaningful practical learning to develop community spirit and engender national integration.