Welcome to Pakistan - The Land of Many Splendors
Our site has to be revamped and redesigned, we are working on it, meanwhile Please click here for travel to Pakistan until this site is redone
Uch Sharif
In Bhawalpur District at the confluence of the Sutlej and the Chenab is the historic town of Uch sharif.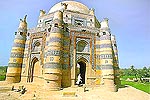 Some historians Believe that Uch was there even before the advent of Bikramajit when Jains and Buddhist ruled over the sub-continent. The time of the invasion by Alexander the Great, Uch was under Hindu rule. Certain historians say that Alexander came To Uch after conquering the northern parts of India and spent over a fortnight in the city and renamed it Alexandria. Some have mentioned Uch by the name of Sikandara or Iskalanda. For Muslims it was the most important cultural and religious center in the 13th century. It is also famous for its beautiful shrines ornamented with blue mosaic and other establishments done on stucco and other materials. Most of the tombs have been erected on the pattern of shrine of Rukn-e-Alam at Multan with some local architectural additions. Some of them also have been engraved and raised to Make calligraphic patterns in the Arabic language. Some of the earlier shrines are in sad state of decay but do reveal the Remanants of their original splendor and glory.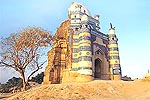 The famous shrines existing at Uch include those of Hazrat Bahawal Haleem, Hazrat Jalaluddin Surkh Bukhari, Makhdoom Jahanian Jahangasht, Shaikh Saifuddin Ghazrooni and Bibi Jawandi. The shrine of Bibi Jawandi is a central asian design, titled in the blue and white faience. The tombs are either Square or domed. The tomb of Bibi Jawindi is the most completing, octagonal in shape. The later tomb of Jalal Surkh Bukhari is unusual with a superb wooden roof painted in lacquer, predominantly red and blue. The tomb of Baha'al Halim has horizontal stripes of blue and white faience tiles, although little of it remains.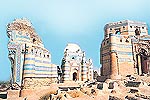 Uch is a small town today and divided into three different quarters known as (i) Uch Bukhari, after Hazrat Syed Jalaluddin Bukhari Surkhposh, (ii) Uch Jilani, after the name of Hazrat Shaikh Mohammad Ghaus Qadri Jilani (Bandagi), who came from Halab in 887 AH, (iii) Uch Mughlian after the Mughal rulers.
Uch Sharif is the most ancient and historically the most important place. Situated about 9 miles from Punjnad, its old town still commands a great reverence not only of the local people but also in other parts of South Asia as well as in Iraq and Iran because the town once used to be one of the most important centers of Islamic education. It was indeed a city of renowned saints. A city, spirited with strong historical mysticsm and cultural glory.