Gasherbrum I Mountain
Gasherbrum in local language means "Shining Wall". There are six Gasherbrum Peaks. Gasherbrum I, also known as Hidden Peak (8,068m/26,470ft), is the highest peak among them.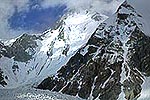 A French Expedition led by H. De Segogne made the first attempt in 1936, but they could not climb beyond Camp V located at a height of 6,797 m. However, in 1958 an American Expedition led by Nich Clinch made the first ascent to Gasherbrum. I. Schoening and Kaufman were the first to reach the summit. The approach route to Basecamp starts from Skardu through Shigar Valley and approach trek starts from Askole through Baltoro glacier.
"Hidden Peak or Gasherbrum I (8068 m)" is the 11th highest mountain of the world. The British explorer M. Conway introduced the names 'Hidden Peak' and Gasherbrum II. In 1958 an American expedition, headed by Clinch and Schoening, climbs the summit for the very first time. On the way crossing the south spur, they use short ski and snow shoes. Pete Schoening and Andrew Kauffman got to the summit on July 4th 1975. In 1982 a German expedition headed by G. Sturm climbed the Hidden Peak. G. Sturm, M. Dacher and S. Hupfauer got via a new route in the north face to the highest point. In the same year, the very first woman reached to the summit. Moreover, the first ski descent from the top of an 8000 meter peak was also made.