Gasherbrum Mountain IV
The trek up the Baltoro Glacier to Concordia is one the the most magnificent in the world. Walking is quite tough but the scenery is superb with new peaks coming into view very frequently. By trekking up the Baltoro Glacier itself one may head directly towards the stunning pyramid of Gasherbrum 4. Other peaks such as the Mustagh Tower Trango Towers, Cathedral Broad Peak and Masherbrum are also visible. With an elevation of 7,929 meters (26,014 ft), Gasherbrum IV is referred to as the most beautiful peak in the Karakoram. It is located in the Baltistan region and the best climbing months can be July and August. Gasherbrum IV is ranked 17 in the world and was first climbed on August 6th 1958. The easiest summit route is the 'Major Mountain Expedition'.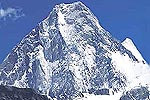 In 1958 a strong Italian expedition led by Riccardo Cassin climbed Gasherbrum IV peak through north ridge after over-coming great climbing difficulties. It were mountaineers like Walter Bonatti and Carlo Mauri who successfully ached its top. They spent the whole night at camp-6 because of a severe snow storm. At day-time they came down to camp-5 (7,193m/23,600ft) through a very dangerous route. It was one of the members of this party, Giuseppi de Francesch, who stopped himself from falling to his death from this mountain.