Khyber Pass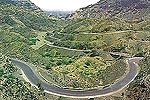 The historic Khyber Pass is situated at a distance of 16 kms west of Peshawar and extends up to the Pak-Afghanistan border at Torkham. Starting from the foothills of the Slueman Range it gradually rises to an elevation of 1,066 meters above sea level. Khyber Pass has been a silent witness to countless events in the history of mankind. As one drives through the Pass at a leisurely pace, imagination unfolds pages of history. The Aryans descending upon the fertile northern plains in 1,500 BC subjugating the indigenous Dravidian population and settling down to open a glorious chapter in the history of civilization, the Persian hordes under Darius (6th century BC) crossing into the Punjab to annex yet another province to the Achaemenian Empire; the armies of Alexander the Great (326 BC) marching through the rugged Pass to fulfil the wishes of a young, ambitious conqueror; the terror of Ghanghis Khan Unwrapping the majestic hills and turning back towards the trophies of ancient Persia; the white Huns bringing fire and destruction in their wake; the Scythians and the Parthians, the Mughals and the Afghans, all conquerors, crossing over to leave their impact and add more chapters to the diverse history of this sub-continent.
The Khyber Pass, the route from Peshawar to Kabul in Afghanistan, is the feature of the NWFP province most widely known (and infused with romance) to the outside world. To visit This famous pass you need a special permit from the Political Agent because of the tribal dangers and official sensitivity over drugs and guns.
The Khyber Train :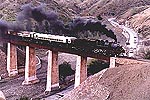 For trail enthusiasts, The Khyber Train journey from Peshawar to Landi Kotal is a three-star attraction. The British, built it in the 1920s at an enormous cost of more than two million pounds. It passes through 34 tunnels totaling five kms (three miles) and over 92 bridges and culverts. The two or three coach'es are pulled and pushed by two SG 060 oil-fired engines. At one point, the track climbs to 130 meters in little more than a kilometer (425 feet in 0.7 miles) by means of the heart-stopping Changai Spur. This is a W-shaped section of track with two cliff-hanging reversing stations, at which the train wheezes desperately before shuddering to a stop and backing away from the brink. The Khyber train currently runs only by appointment. Groups of 20 to 45 passengers can book one bogey for an all day outing to Landi Kotal and back, a ride lasting ten to eleven hours. You can easily steal a glimpse of this train resting at Peshawar Station. This journey allows you to explore parts of Pakistan like you have never done before.