Backpacks
The best contemporary backpacks are virtually bespoke garments compared to the off-the-rack, one-size-fits-most models of yesteryear. Of utmost importance here is torso length, so the pack rests just right on your hips without doing a potato-sack number on your shoulders. It shouldn't sag, nor rest so high it squeezes your kidneys.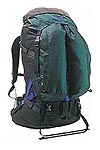 Besides overall pack sizes, the best packs offer different sizes of hipbelts and shoulder straps.
Walk around carrying the pack, loaded with the full amount of weight you intend to carry on the trail. You'll feel the best pack grab onto your back like a pet monkey, with no discernible hot spots, and the load will feel so perfectly distributed that you'll wonder if you forgot something. You should be able to sashay your hips freely, swing your shoulders fully, and raise your legs without ever feeling drawn off balance.
Hipbelt, Straps & Back Panel
Hipbelt Weight transfer is for naught unless the hipbelt, the receiver of this load, is up to the task. That means one that fits (more about fit later) and has just enough stiffness to support a load without sagging. A soft-foam hipbelt may feel great in the store, but after a few miles down the trail it will begin to bottom out and your hips will feel the pressure of the load. One that is too firm can bruise your hips. The most sophisticated hipbelts are a Dagwood sandwich of different grade foams— cell for tactile comfort, closed-cell for support, compression-molded foam for even firmer support. Some add a layer of HDPE. A good hipbelt will compress progressively, like the shocks on your mountain bike. Look for one that cups over your hipbones, which maximizes the amount of weight-bearing surface area.

Shoulder Straps Here too you want to avoid too-soft foam. Another bad sign: puckers in the foam or in the sheath that covers it. These puckers will turn into hot spots against your skin out on the trail. The best pack makers have mastered the art of bending, curving, and covering foam without these dreaded creases— but, of course, you have to pay for such craftsmanship.

Back Panel A sweaty back is an unavoidable consequence of carrying a load, but a good back panel can mitigate the soggy-back syndrome. Some use firm, compression-molded foam with grooves built in to permit a cooling airflow. Others use a swatch of soft, reticulated foam (it looks highly perforated) that does a decent job of dispersing sweat. Some do away with back padding altogether: Your back stays cool; just pack soft stuff against your back to stay comfortable.