Tents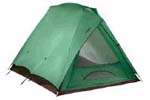 Selecting a tent can be confusing. Get the right tent, and you can expect years of leakless shelter from any storm you might encounter. Get a tent that isn't durable enough for your needs, or one that is so overbuilt you could use it on K2, and you'd probably be financially better off if you had opted for expensive hotels instead of camping.
The tent you buy depends on where, when, and with how many people you'll camp.
Convertible Tents are built for four-season use. they have windows, vestibules, and rain flies. Extra poles, zip-down windows, and extended rain flies adjust to provide added ventilation for summer conditions, and greater warmth and stability in winter weather.

Three-Season Tents are the most common on the market. Basically, they are designed for use in the summer, spring, and fall. Many three-season tents have weathered cold winter storms. However, if you are planning on a great deal of winter camping, you might want to consider a four-season or mountaineering-specific model. Three-season tents generally feature a rain fly, mesh inserts for hot summer nights, and a vestibule (small sheltered areas outside the main living space) sufficient for stashing a couple of medium-size packs.

Summer Tents are lightweight and highly ventilated. A nice option for hot nights, they aren't very versatile when temperatures drop or rain hits.

Mountaineering Tents are designed to withstand the worst of winter storms. If you are planning on spending a lot of time in the mountains or doing foul-weather camping, by all means, check out mountaineering designs. However, they tend to be more expensive and slightly heavier than your three-season alternative.
Additional Hints
Additional accessories that can make camp living more comfortable are built-in gear pockets where you can stash glasses, watches, and other paraphernalia. Also, check the tent's ventilation system. Mesh windows allow air in, keep out bugs, and provide views, but make sure they seal up tight to prevent the seepage of chilly air on cold nights. Check the floor for durability and waterproofness.

Always get in a tent and stretch out before you buy. Your best bet is actually to set up a tent and crawl around inside it before making any buying decision. When setting up the tent, check to make sure the pole sleeves are easy to thread (continuous sleeves are the easiest). Some manufacturers make all their tent poles the same length, a real boon when you are setting up in the dark. Clip-type tents are faster than sleeved poles to set up but sacrifice strength in bad weather.

Consider the gear you'll need to store in the tent at night. Assemble your own, or if you are buying in a shop, make use of their other camping accessories. If you are planning on sleeping two or three campers in a single structure, grab the appropriately sized sleeping bags and foam pads and lay them out inside the tent. Bring along packs (stuffed full, of course), and check to ensure that they fit in the vestibule. If you plan on using a hanging lantern, also check the suitability of the overhead pole configuration.

Check the stitching and reinforced patches on the corners, stake-out loops, and other stress points. Plastic buckles are easier for stay lines than metal sliders, but if they are awkwardly positioned, they could break underfoot. In order to shed water, a single-walled tent or a rain fly needs to be seam-taped and sealed. Fully taped seams are more waterproof than those that are partially taped. Find out if you need to add a liquid sealant after you buy the tent, and how often it needs to be applied.

Stuff the tent and poles in the supplied sack, and see how it fits into your pack. Remember: Unless you have already set a tent up, it's not a good idea to bring it on a camping trip. Even if you can read the directions by headlamp, there's always a chance that you got the package with a missing pole.
Caring for Your Tent
Never store a tent if it is wet. This will cause the fabric to delaminate and coatings to peel. Always dry out your tent before you pack it up for storage. Damp tents also mildew, which destroys the nylon and smells bad. If possible, let your tent dry in the morning before packing it up. If all else fails, pitch it when you return home. Sweep out all the dirt and leaves, sponge off dirt with a damp cloth, and hang it up to dry.

The sun too will eventually cause a tent to deteriorate. If possible, camp in the shade to avoid harmful UV rays. You might consider simply leaving your rain fly on during the day. They are easier to replace after a few seasons of abuse than the entire tent.

Tent floors can wear out, so use a ground tarp when possible. Thin polyethylene sheeting from a hardware store is a lightweight, inexpensive option to go under your tent.